Prepping Your Garden in Spring for Summer Bounty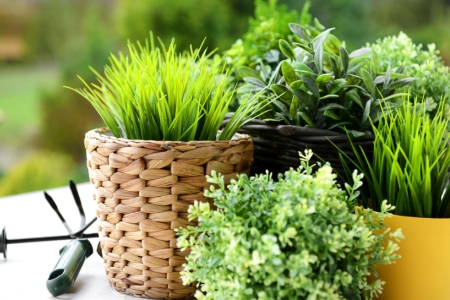 By John Voket
Fort Lauderdale, Fl - In this final segment of our three-part series, we turn to homeowners or renters who think they don't have the space to grow anything for their dinner table.

Our sources at the Missouri Botanical Garden (missouribotanicalgarden.org) say vegetables are very adaptable to growing in containers, if given a few basic requirements: full sun, a well-drained soil with organic matter, and consistent watering.
The experts at the botanical garden suggest anyone new to vegetable gardening should start out with just a few containers to best ensure success their first season. Asian greens (like Tatsoi) or mustards (like Red Giant) grow well in containers. Other greens, such as arugula, which can be started indoors under lights at the end of winter, are good choices, as well.
Outdoors, sow as soon as the soil is workable. Kale and collard greens can extend your harvest into summer and fall, so that you will always have greens available.
How about tomatoes? The experts at the botanical garden say tomatoes grown in containers are ideal for homeowners or renters who don't have many sunny locations to spare. If you don't have room to rotate your tomato plants, place them in a pot with fresh potting mix. Try a determinate variety (like Celebrity or Rutgers) for a smaller-growing plant. You will still need to stake or cage it, but you won't need to prune it as much.
Courting a total fear of failure, the experts at Burpee seed company recommend beginning with herbs. They are easy, especially if you begin with transplants, and will add a fresh-grown taste to almost any meal. Just remember to give them the conditions they prefer. All herbs need full sun, but some, such as rosemary, prefer drier soil and fewer nutrients; basil needs more fertilizer and watering.
To learn more about growing herbs, visit www.burpee.com/herbs/container-herbs/.
Reprinted with permission from RISMedia. ©2016. All rights reserved.
Home Gone Green? You May Be Eligible for Tax Credits

How to Prevent Tree Roots from Damaging Your Property
Waterfront Condos For Sale in Fort Lauderdale